Me and my favourite photographer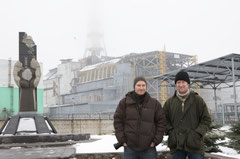 During the past ten years, I have travelled the world with my favourite Dutch photographer, Ronald de Hommel. At photofactory.nl, you can see some astonishing beautiful series of pictures he made while we were on assignments together.
At www.themedellinoffice.com you will find some of the stories we produced together during our tie in Medellín in Colombia.
Here you can find a story we made about Transnistria, a breakaway region between Moldova and Ukraine.....
Here you will find a feature we made about ´revolutionary´ Venezuela and its President Hugo Chavez....
Here`s another story with a diffferent reality from Venezuela, this time about indigena children living on a waste dump in northeastern Venezuela.....
And here`s one more story from Venezuela, this time about the pristine Amazon region in the south of Venezuela, which we traveled by boat on the mighty Orinoco river.....
Finally, here you will find a few more stories we made together while we were on assignment in Moldova, Poland and Colombia.