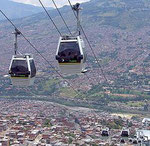 People hearing that you live in Medellin usually either think you`re insane, very brave, having a death wish or a combination of the three. People who inform themselves a little bit better then usually read stories raving about Medellin´s revival, the city rising from the ashes and now being one of the best places on earth to live, with a perfect climate, hard working people, skyrocketing real estate prices and a generally safe environment. The truth, of course, is somewhere in the middle, and the fight about the image of Medellin towards the outside world is currently being fought with passion.
Like during last week, for example.
The `fight` started with a very long feature in Spain`s respected daily newspaper El Pais. According to the story, despite the death of Pablo Escobar in 1993 and the falling apart of the infamous Medellin cartel, the city still has huge problems with hundreds of drug gangs and more than 5.000 sicarios who are ready to kill for prices as low as 5.000 Pesos (a little more than 2 Euro).
Medellin`s local newspaper El Colombiano was upset by the numbers and the quotes in El Pais and started a `we-are-proud-of-Medellin-and-you foreigners-do-not-know-what you-are-writing-about´ action. With success: within a day, several high-ranking officials stated they did not `recognise` themselves in the story by El Pais. Medellin`s Mayor Gaviría even wrote a letter to the editor of El Pais, complaining about the unclear sources of the article.
Just as the dust seemed to settle down, the next negative feature about Medellin appeared, this time in British daily The Guardian, asking itself whether Medellin is `on the brink of a new drug war`. Again the reactions from official sides were strong.
So who is right? Of course both sides are. Medellin is without doubt a much safer place than twenty years ago, when murder rates reached an all-time high of 381 per 100.000 inhabitants in 1991, making it the murder capital of the world. By 2007, these numbers had dropped by roughly 90% to 34 murders per 100.000 inhabitants. Over the last years though, murder rates have been on the increase again, due to increased fighting between drug gangs.
So can we speak of a revival of Medellin? Yes we can, but it`s an unfinished one.