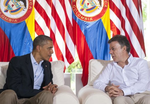 Funny how media work. Last weekend, more than 30 heads of state from North- and South America gathered in the Colombian city of Cartagena for the Summit of the Americas, to discuss issues such as economic cooperation between the American countries, concretized by agreements between the USA, Colombia and Peru on a Free Trade Agreement (TLC), which will start from the 15th of May.
Another very important topic during the Summit, though officially not on the agenda, was the discussion about legalization of drugs. For most Central and South American countries, it is clear that the current policy of prohibiting the use of drugs just doesn`t work, as can be seen in countries like Mexico, Colombia, Guatemala and El Salvador, where complete drug wars are fought between police, drug traffickers and the army. Although the United States continue to be against any legalization of drug use, the American leaders unanimously decided to set up a new regional anti-crime body. Further, they commissoned a study on drug policy by the Organization of American States (OAS), which can be seen as important result of the Summit, especially if one realises that the drug topic officially was not even on the agenda.
Another remarkable fact was that with the exception of the United States and Canada, all other participating countries stated their objection to exclude Cuba from future Summits. Because the heads of state could not reach a consensus on this issue, they refused to sign a final joint declaration.
Nonetheless, important issues were being discussed in Cartagena. But none of that made it to the newspapers, websites, radiostations and television programmes in Europe. The only thing that interested mainstream media were a few US Secret Service agents who invited prostitutes into their hotel rooms. Very important news, indeed...