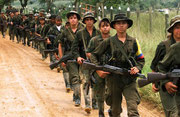 MEDELLIN - New times in Colombia? After having deceptioned the Colombian people time after time during the past decade with unfulfilled promises, this time the relieve was as great as it could be, after the FARC kept its promise this time: it released its ten last `political prisoners`. Some of the four soldiers and six policenmen had been held for more than twelve years in the jungle. Some of them had been chained to eachtother for several years already. Not only did the rebels on rubber boots release these ten prisoners, they recently also announced that in future they will refrain from taking people hostage as a means of finacing their `revolutionary fight`.
The FARC moves come at a moment that the organisation is under fierce fire. Over the last weeks, the Colombian army killed almost seventy rebels during several attacks in different parts of the country. She uncovered FARC camps in Panama, disclosed weapon arsenals and celebrated the death of several mid-level FARC commanders. Although nobody knows the exact figures, specialists estimate that the numbers of FARC rebels decreased by half during the past decade, to roughly 8.000 persons under arms nowadays. Above all this, the FARC lost almost all of its long-time leading commanders from the secretariat, the highest FARC gremium. They were killed by the Colombian army one by one during the past years. By far the biggest part of the Colombian population is fed up by the FARC, which says to by fighting for a socialist state since 1964.
Colombian President Santos called the moves by the FARC ´important steps in the right direction`. He added however that these steps were `not enough`. As soon as the FARC would be sending `clear and serious signals` of a `sincere will to peace`, Santos would be willing to participate in peace negotiations personally. Before Colombia gets that far, however, there are still thousands of Colombians waiting for a sign of life of the several hundreds of civilians held hostage by the FARC. The last –failed- peace negotiations between the Colombian government and the FARC date back to 2002.